The Ivy Lane Card Workshop on the Go (WOTG) kit is one of my favorite WOTG's in a while!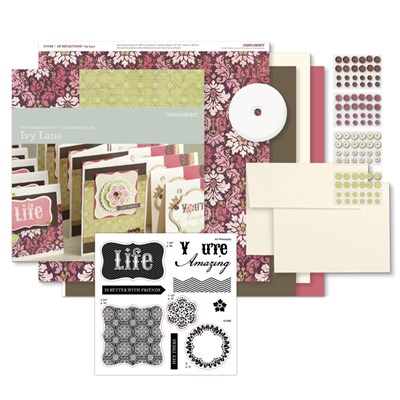 The paper pack alone is stunning - my grandma told me (as she got one of the cards for Mother's Day), "this is one of my all time favorite and prettiest cards you've given me." *blush* #thrilled!
I am not one to stick to patterns.. I always like to change them up and see what else i can do with them. So here some inspiration on how to enhance the Ivy Lane Cards.
Subtle changes to this one - the WOTG pattern is the bottom left card. To change it up, I used the Close to My Heart embossing folders to add some texture to the Hollyhock cardstock pieces. Because CTMH's paper has a white core, there is some natural distressing going on when you emboss! You can see it in the Damask pattern above.
I also added in the Bronze Shimmer Trim to compliment the kit. The Gold Shimmer Trim is awesome & limited to this kit ONLY. Can't wait to use it on some other projects! The other accessory I added in were the Pink Glitter Gems as additional bling.
Again, the top left card is the WOTG style - I changed up the others either by swapping out the gold shimmer trim with the Bronze or the sequins with the pink glitter gems. I also used the back of the floral paper on the bottom left card for something different. Additionally, I rounded the corners on some of them too.
These turned out to be my favorite of the three cards. The top left card is the WOTG pattern, unaltered. I embossed three of the brown pieces, which you can see above - it really spruced them up! Supplementing in the Rosewood Collection mini-melody accents really blingged it up!

LMK if you have any questions & hope you enjoy this card kit as much as I did. Don't be afraid to change it up!
Happy Scrappin'
WOTG Ivy Lane Cardmaking Kit - $24.95
PRODUCT DESCRIPTION
Use the materials, kit-exclusive accessories, and instructions in this kit to create 15 beautiful cards (5 each of 3 designs) inspired by Jeanette Lynton!
Included in the kit:
1 – My Acrylix™ Ivy Lane Cardmaking Workshop Stamp Set (D-size)
2 – Ivy Lane B&T Duos™ Papers
4 – Cardstock Sheets (1 Cocoa, 2 Colonial White, 1 Hollyhock)
15 – Colonial White Cards & Envelopes
1 – Sequin Dot Assortment (24 each of 4 colors)
1 – Gold Shimmer Trim (5 yards)
1 – Instructional Brochure
Some basic tools you may already have, such as inks, stamp blocks, or tools are needed to complete this project.