Stamping Technique #1 - Bend It
Last month I created an amazing project, inspired by a consultant-only video from Close to My Heart. It features different stamping techniques on mini pages, compiled on the Designed Décor Flip Stand Album. To inspire your stamping, I'm going to be blogging about 11 different stamping techniques. As a bonus, I have used all of the current paper packs and some extra embellishments and products.
If you're new to CTMH's MyAcrylix Stamps, you're in for a treat!
Here's a little background about them:
CTMH's premium-quality decorative stamps are offered at a fraction of the cost of rubber, yet deliver all the benefits and beauty of every Close To My Heart product you've come to know and love. They're easy to use, simple to store, and most importantly, offer creative control and artistic precision every time you use them.
Our exclusive clear blocks allow you to see exactly where the stamp is placed and whether there is even coverage of the ink. My Acrylix™ stamps are made of a softer substance than rubber and don't require as much pressure when in use. My Acrylix stamps provide the same results when used with embossing products, markers, watercolors, and more.
First up is what I call the "Bend It" technique - which means, you got it, bending the stamp!! You
can manipulate the stamp images on a block to create curves or waves. Stamps have a "memory" and will always go back to their original shape.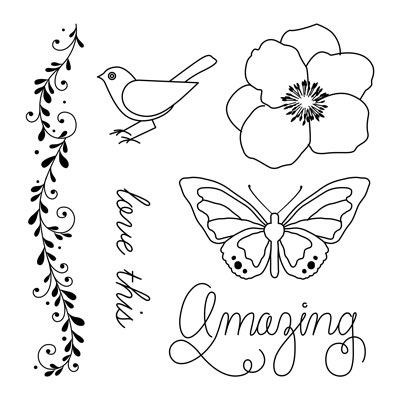 I stamped it at the bottom of my page. However, I curved it and then stamped the image on the top corners. Here is a picture of what the stamp looks like curved on the block:
Please let me know of any questions and happy stamping!
- 3D foam tape & tombo adhesive