The Snowhaven Workshop on the Go (WOTG) card kit was such an easy and cute kit to use!
I highly recommend it if you like non-traditional holiday cards. You can even change them up and make them wintery-birthday cards! I may have to take my own advise and try it! LOL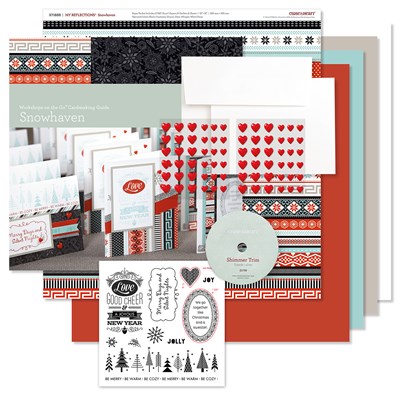 You get all the supplies to make 15 cards - 5 of 3 designs. Here is the third design from this WOTG kit. I altered some of them (cuz I can't help it) and plus it will give you some inspiration on how to change it up!
For this card, I mostly kept it the same. To get the LOVE in Ruby, I stamped it on a scratch piece of paper, cut it out and then adhered it to White Daisy piece after stamping the entire image.
Adding in the Red Shimmer Trim, changing up the papers, and stamping in Black vs. Glacier can really make a difference! I'd say the card below was my favorite altered design.
This is a SUPER cute kit - get it now so you can get your Holiday cards done in a jiff! Get your
Snowhaven Card WOTG
kit now!!
PRODUCT DESCRIPTION
Workshops on the Go

®

Snowhaven Cardmaking Kit Contents:
1 – My Acrylix™ Snowhaven Workshop Stamp Set (D-size)
2 – Snowhaven B&T Duos™ Papers
4 – Cardstock Sheets (1 Cranberry, 1 Glacier, 1 Whisper, 1 White Daisy)
15 – White Daisy Cards & Envelopes
1 – Red Enamel Hearts (Z2009)
1 – Silver Shimmer Trim (Z1799)
1 – Instructional Brochure
Featured Colors: Cranberry, Glacier, Whisper, White Daisy, Slate
Use the materials, accessories, exclusive D-size stamp set, and instructions in this kit to create 15 beautiful cards (5 each of 3 designs) inspired by Jeanette Lynton!
Stamp images outlined in red coordinate with the Cricut

®

Artbooking collection (Z1906).