LThe Snowhaven paper pack is one of my favorites from the new Idea Book. I love the color combination of the Cranberry, Glacier, Slate & Black. The Workshop on the Go (WOTG) card kit for this paper pack is super cute!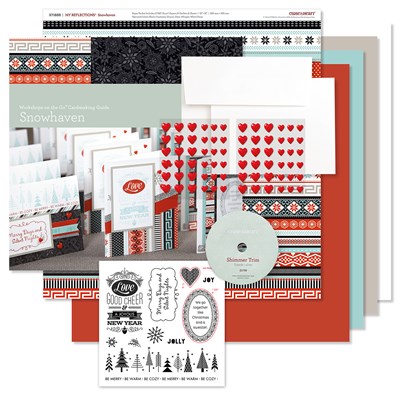 You get all the supplies to make 15 cards - 5 of 3 designs. I am going to share with you the cards, of the second design, I made from this WOTG kit and how I altered them to give you some inspiration.
The card on the far left is the one the kit says to make. I really liked using the tree stamp and the sentiment stamp (Be Merry, Be Warm..) at the top! I changed the stamp I used on the dove tails, swapped the silver shimmer trim for washi tape or red shimmer trim. For the most part, I didn't alter these cards much. I was very content with the design as it was.
PRODUCT DESCRIPTION
Workshops on the Go

®

Snowhaven Cardmaking Kit Contents:
1 – My Acrylix™ Snowhaven Workshop Stamp Set (D-size)
2 – Snowhaven B&T Duos™ Papers
4 – Cardstock Sheets (1 Cranberry, 1 Glacier, 1 Whisper, 1 White Daisy)
15 – White Daisy Cards & Envelopes
1 – Red Enamel Hearts (Z2009)
1 – Silver Shimmer Trim (Z1799)
1 – Instructional Brochure
Featured Colors: Cranberry, Glacier, Whisper, White Daisy, Slate
Use the materials, accessories, exclusive D-size stamp set, and instructions in this kit to create 15 beautiful cards (5 each of 3 designs) inspired by Jeanette Lynton!
Stamp images outlined in red coordinate with the Cricut

®

Artbooking collection (Z1906).