Here is a layout I created using the new Wanderful paper pack... I actually used the Workshop on the Go (WOTG) kit to create this because I love the stamp set that comes with it (exclusive..can only get it with the WOTG!).
I loved the cluster from the WOTG instructions, so I incorporated it into the Make It From Your Heart Vol. 1 - Pattern 1 design. I definitely used the WOTG instructions as my accent/cluster inspiration on both pages.
The new Black Arrow Washi Tape is super awesome!! It's clear, so gives a cool textured look when it goes over darker paper or the tape fades away on lighter shades and only shows the black arrows. The arrows on the top of the cluster (see pic above) is the washi tape!!
After I cut the arrows out on the Cricut using the Artbooking Cartrdige, I went ahead and stamped them BEFORE removing them from my mat. It was way easier!! I incorporated the inside of the arrows into other projects (coming soon).
Want to create this layout? Get the
Wanderful Workshop On the Go (WOTG)
Kit (Item# G1088 - $29.95). When you order this from me, I will send you the Cricut Craftroom (CCR) file for FREE! It includes bonus cuts too for the "non-Cricut" stamps with the kit. Yup, I saved myself some cutting. :)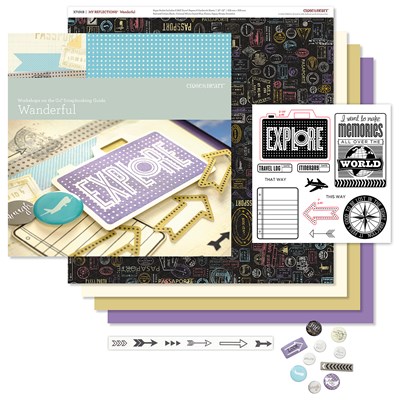 Featured Products:
Cricut Artbooking Cartridge

Wanderful WOTG kit

Wanderful Paper Pack

Wanderful WOTG Exclusive Stamp Set

Wanderful Assortment

Black Arrow Washi Tape

Make It From Your Heart Vol. 1 How-To Book (pattern #1)

Gypsy Cardstock (1 piece)

Black Shimmer Trim

Silver Sequin Assortment

Black, Honey & Smoothie Stamp Pads

Sponge, Liquid Glass, Tombo Adhesive, & 3D Foam Tape